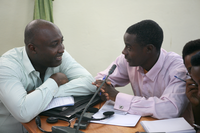 Our courses that cover questioning skills were developed in response to customer demand.
Several clients, with whom we had formed long and successful relationships, started to express the need for a workshop to help their team members ask questions that were more thought-out, and better expressed. In our research we found that in many cases, people were asking questions that did not actually request the information they wanted!
Since then, we have developed several variations on this course. We have adapted it for use with employees to ask more effective questions of their clients, for teams to ask better questions of their Managers, for questioning politicians, and for voluntary organisations seeking information about how to help their clients most effectively.
We make sure that the course content and exercises reflect just the kind of questions that your organisation needs to ask most often.
Here are a few of the topics we often include in our questioning courses:
Questioning and information gathering strategies
How people communicate information and what it tells us
Choosing the best style of question to ask
Quick and effective follow up questions
Funnel questioning
Using questions to persuade and guide
Barriers to listening
Analysis of information we have received
Assertive verbal skills
Gender difference in communication
This topic is most commonly booked as a half-day module, either as a stand-alone workshop or pared with another topic to combine into a full day. However, this topic can also be booked as a full day course, particularly if you feel your organisation would benefit from examining this topic in a variety of situations.
How to plan your course
Identify three key areas which you want your workshop to focus on. These may include the topics above – or you may want to include other topics. Contact us by email or phone (details below) and we will work with you to design a workshop which will meet your team members' needs.
Using your ideas and examples drawn from the participants' experience, we will write and deliver a workshop to your precise requirements.
The Midas Approach
We tailor the content of every individual workshop to best fit the skill level and needs of the participants.
All of our workshops are highly interactive, and give the participants lots of opportunities to put theories into practice. Our highly experienced trainers will pass on the tips which will help your staff members succeed.