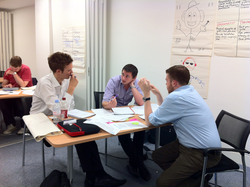 If you plan where you want to go, you're a lot more likely to get there!
Effective use of strategic thinking, either for yourself or for your organisation, pays dividends for teams and organisations. If your whole team understands the concept and use of strategic thinking, it will help your organisation to go from strength to strength.
This topic is ideal if you know that change is on the horizon for your organisation, so that you make the best of the available opportunities. It's also very rewarding for new managers and new teams, to make sure they set off in the right direction.
A strategic thinking workshop is a very effective way of helping to create or maintain a motivated and cohesive team.
We will make sure that the materials we use in your workshop are based in the right context for your work and your team, to make sure it is packed with practical, effective tips for you to use immediately.
Here are some topics we may include in our Strategic Thinking training courses:
What is strategy?
Strategic or specific? Why it is important to make the distinction
What should your strategy cover?
Identifying strategic factors and their impact
Using Strategic Scenarios to create ideas
Different approaches to Strategic Thinking
How to get the best from Strategic Conversations
Drivers and blockers for Strategic Thinking
Building a shared Strategic Vision
Macro and Micro Visions
Practical tools for Strategic Analysis
Monitoring and evaluating the impact of your strategy
How to plan your course
Identify three key areas which you want your workshop to focus on. These may include the topics above – or you may want to include other topics. Contact us by email or phone (details below) and we will work with you to design a workshop which will meet your team members' needs.
Using your ideas and examples drawn from the participants' experience, we will write and deliver a workshop to your precise requirements.
The Midas Approach
We tailor the content of every individual workshop to best fit the skill level and needs of the participants.
All of our workshops are highly interactive, and give the participants lots of opportunities to put theories into practice. Our highly experienced trainers will pass on the tips which will help your staff members succeed.