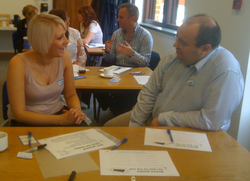 As well as providing one-to-one coaching for individuals, Midas also runs training workshops to help people develop their own coaching skills.
These skills are essential for anyone with a Line Management responsibility, or who has a role in helping other staff to develop professionally. These make an ideal module as part of a Management Development Programme, or as a standalone event to help your staff to become more supportive to colleagues.
These are some of the topics we may include in a Coaching Skills training course:
Review and refine your own interpersonal communication skills
Develop advanced listening skills
Explore the importance of Assertive Behaviour to a coach
Consider the implications and the use of Transactional Analysis in the coaching process
Understand how to use NLP communication modes in a coaching session
Analyse the Adult Learning Cycle and discover your own Learning Style
Discover the importance of reflective practice and the time element to coaching
Learn about the TGROW coaching model and how to use it
Practice your new coaching skills in a safe and supportive environment
Set realistic expectations for the coaching session
Receive feedback from the trainers to help you to continue to develop your own coaching skills
How to plan your course
Identify three key areas which you want your workshop to focus on. These may include the topics above – or you may want to include other topics. Contact us by email or phone (details below) and we will work with you to design a workshop which will meet your team members' needs. Using your ideas and examples drawn from the participants' experience, we will write and deliver a workshop to your precise requirements.
The Midas Approach
We tailor the content of every individual workshop to best fit the skill level and needs of the participants. All of our workshops are highly interactive, and give the participants lots of opportunities to put theories into practice. Our highly experienced trainers will pass on the tips which will help your staff members succeed.