There are three kinds of service we provide; training, coaching and consultancy.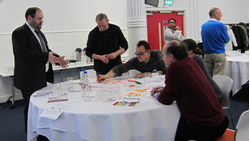 We write all our own materials, and we have a team with a wide range of expertise. When you contact us, we will discuss your needs and thoughts, and then suggest what combination of Midas services might best fit your needs.
For example, if you would like to increase your team's confidence in giving presentations, we could offer you a series of training courses alongside some one-to-one coaching sessions to help each individual develop their style and overcome any barriers they may personally face. Or a one-off workshop might be more appropriate – the choice will be yours.
You can either select a link on the right to learn more about our training, coaching and consultancy services, or just give us a call on 0845 468 0235. We will be happy to talk you through what we can offer you to exactly meet your needs.