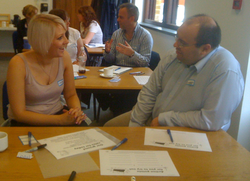 There are many different aspects of communication. Some of these are complex and can be run as one day workshops in their own right.
In all our communication skills courses, we begin by encouraging our participants to reflect on the styles and techniques of communication that they currently use. They then learn how they might choose to adapt their style in different situations to get the best possible outcome.
Here are a few of the topics we often include in our communications skills courses:
Assertive verbal skills
Effective listening
Confident communication
Non-verbal communication (including body language)
Questioning skills
Building rapport
How to develop your Emotional Intelligence
Neurolinguistic Programming (NLP) and how it affects communication
Transactional analysis and the dangers of crossed communication
Giving feedback
How to say no
What to do when someone does not want to listen
Communicating in difficult situations or with difficult people
Persuasive and influential communication
Voice skills
Gender difference in communication
Written communication
Social media, online and email communication
Choosing the right words
How to make an impact
Many clients find it helpful to follow a communications workshop with a session on influencing and negotiation, or to run a series of one day modules to cover all the above areas in depth for their teams.
How to plan your course
Identify three key areas which you want your workshop to focus on. These may include the topics above – or you may want to include other topics. Contact us by email or phone (details below) and we will work with you to design a workshop which will meet your team members' needs.
Using your ideas and examples drawn from the participants' experience, we will write and deliver a workshop to your precise requirements.
The Midas Approach
We tailor the content of every individual workshop to best fit the skill level and needs of the participants.
All of our workshops are highly interactive, and give the participants lots of opportunities to put theories into practice. Our highly experienced trainers will pass on the tips which will help your staff members succeed.