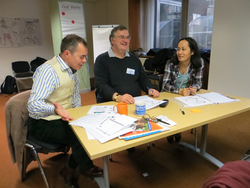 There is an art to giving feedback that is useful, factual and most important of all, is constructive. Receiving feedback is essential for any kind of personal or skills development. How well feedback is given can make all the difference to whether it is received, understood and then acted upon.
We developed this course on Constructive Feedback initially as part of our Communications Skills workshop. We found that it was so popular that clients asked to book further, more advanced sessions.
We therefore developed a range of workshops about Constructive Feedback to meet that demand. We can cover the essential basics, or go into greater depth, examining very delicate or difficult situations where we want or need to give feedback and it is important to get a clear message across effectively.
These are some of the topics we may include in a Constructive Feedback training course:
When is it appropriate to give feedback
Judging how much feedback to give
Handling emotional situations
Feedback vs criticism
What is your feedback hoping to achieve?
Different styles of feedback
Verbal tips for effective feedback
Making feedback a positive experience
Maintaining your integrity
How to give difficult feedback
Giving feedback to people who are resistant or upset
Helping people to give themselves useful feedback
How to plan your course
Identify three key areas which you want your workshop to focus on. These may include the topics above – or you may want to include other topics. Contact us by email or phone (details below) and we will work with you to design a workshop which will meet your team members' needs.
Using your ideas and examples drawn from the participants' experience, we will write and deliver a workshop to your precise requirements.
The Midas Approach
We tailor the content of every individual workshop to best fit the skill level and needs of the participants.
All of our workshops are highly interactive, and give the participants lots of opportunities to put theories into practice. Our highly experienced trainers will pass on the tips which will help your staff members succeed.