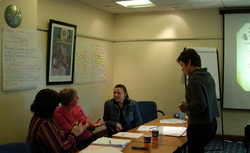 When a crisis hits your organisation, how you manage the response is the biggest factor in determining the eventual outcome. Whether the crisis was brought on yourself, or if you were merely an innocent bystander swept up in events, the right reaction can save time, goodwill and money.
Midas can help your team to make plans for how you would respond in the event of a crisis. We can ensure that everyone in your organisation understands the role they have to play when a crisis happens, from the Chief Executive to the part time intern.
We often provide crisis management workshops for groups of participants that have similar levels of seniority. For example, it is often helpful for Senior Managers to be trained in one workshop and then Junior Managers to be trained together at a different time. Talk to us about your organisation's structure and needs and we can advise you on how best to structure your event.
These are topics that we may include in a Crisis Management training course:
Planning for different types of crisis situations
Developing a Crisis Action Plan
Identifying your Crisis Management Team
How to prepare your organisation for a crisis
Understand how different people might respond in a crisis
Getting your message across internally and externally
Managing a crisis in the media spotlight
Developing and holding a line in the media
When to apologise, when to explain
Practicing the verbal skills to keep on message
Avoiding a panic response
Understanding when and how to respond to attacks in the media
Considering the danger posed by 'helpful' journalists
After the crisis: preparing your Business Recovery Plan
How to plan your course
Identify three key areas which you want your workshop to focus on. These may include the topics above – or you may want to include other topics. Contact us by email or phone (details below) and we will work with you to design a workshop which will meet your team members' needs.
Using your ideas and examples drawn from the participants' experience, we will write and deliver a workshop to your precise requirements.
The Midas Approach
We tailor the content of every individual workshop to best fit the skill level and needs of the participants.
All of our workshops are highly interactive, and give the participants lots of opportunities to put theories into practice. Our highly experienced trainers will pass on the tips which will help your staff members succeed.