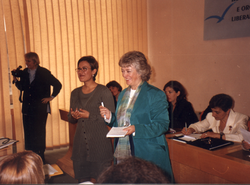 Midas has a long reputation for training in countries with emerging democracies. We have trained in Europe, the Middle East, Africa and Asia and understand the different approaches that are often needed to reflect cultural sensitivities.
We have worked with many different NGO and charity organisations, including (among others) the UN, British Council, Westminster Foundation for Democracy and Friedrich Neumann Foundation. We have trainers with strong links to all three mainstream British political parties and we are particularly passionate about our work in helping political activists to engage with democracy.
We are happy to work with any group of parties in any country, so long as they are looking to work legally and within a democratic structure to win power. We can also run workshops in London or elsewhere in the UK if you would rather bring your participants to the UK for their training, perhaps as part of a conference or summit.
Our experience in training managers and leaders in UK industry has proved particularly helpful for running capacity building workshops for NGOs. We have run successful workshops to help many different types of organisations to develop their long term strategy for success.
We are experienced in the use of both consecutive and simultaneous translation and can work with you to make sure that your participants will be able to fully engage with the training.
Here are a few of the topics we often include in our democracy building courses:
The benefits of democracy
The theory behind campaigning
Lobbying for change
The importance of choosing your message
Different ways to get your message across
Writing and designing effective literature and letters
Targeting – how it works and why you should use it
What do voters look for in a politician?
Communicating clearly and concisely
How voter identification works
Voter registration campaigns
Getting your voters to the polling station
How to organise your data
The role of candidate
The role of organiser
Using the media
Using the internet
Campaigning using social media
Winning women in a modern democracy
Training for trainers
How to plan your course
Identify three key areas which you want your workshop to focus on. These may include the topics above – or you may want to include other topics. Contact us by email or phone (details below) and we will work with you to design a workshop which will meet your team members' needs.
Using your ideas and examples drawn from the participants' experience, we will write and deliver a workshop to your precise requirements.
The Midas Approach
We tailor the content of every individual workshop to best fit the skill level and needs of the participants.
All of our workshops are highly interactive, and give the participants lots of opportunities to put theories into practice. Our highly experienced trainers will pass on the tips which will help your staff members succeed.