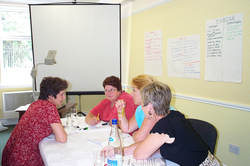 There are many strategies and techniques we can use to influence someone to a particular emotion, opinion or course of action. Our workshops on this topic break down these strategies into different sections to help participants of all levels of confidence and experience to improve their ability to influence other people.
Our influencing skills workshops are often requested as part of longer courses that focus on Communication, Leadership, Management or Negotiation.
These are some topics that we may include in an Influencing skills courses:
The role of emotion in influencing
The Three Aspects of Influencing
How self-awareness can help you to influence others
Gender difference in communication and influencing style
Influencing do's and don'ts
Communicating clearly when influencing
How to communicate and act assertively
How others perceive us
The role of listening when influencing others
Empathy – accepting the perspective of others
Achieving rapport
The impact of unconscious bias
How nudging can have a positive influence on actions
How to plan your course
Identify three key areas which you want your workshop to focus on. These may include the topics above – or you may want to include other topics. Contact us by email or phone (details below) and we will work with you to design a workshop which will meet your team members' needs.
Using your ideas and examples drawn from the participants' experience, we will write and deliver a workshop to your precise requirements.
The Midas Approach
We tailor the content of every individual workshop to best fit the skill level and needs of the participants.
All of our workshops are highly interactive, and give the participants lots of opportunities to put theories into practice. Our highly experienced trainers will pass on the tips which will help your staff members succeed.