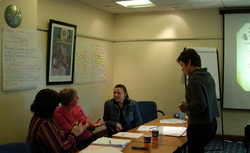 This course is one of the most popular bookings with Midas clients due to its universal relevance and fun, interactive style.
Interpersonal Skills is a complex and important topic. In some senses you could say that most communication training is about interpersonal skills, since it concerns the interaction between people! At its heart though, we believe that IPS is about the ability of a person to have positive, easy and confident interactions with one or two other people at a time.
Our fun, informative and highly practical courses can focus on IPS for a particular status of person. For example, we are often asked for IPS workshops for specifically aimed at Junior or Senior Managers. At other times clients have asked for more generalised courses for everyone in their organisation or directorate.
If you have just one individual that needs IPS training, we do not recommend booking a course. Instead, we suggest you contact us about one to one Midas coaching, as this can help the individual to explore their personal responses to the ideas behind IPS and put the theories into practice.
These are some of the topics we may include in an IPS training course:
Interpersonal Skills in practice – what do we mean by IPS?
Non-verbal communication
The Learning Triangle
The impact of one's state of mind on working relationships
Personal Effectiveness
Emotional Intelligence
Self awareness and the Inner Voice
Frames and filters
How Unconscious Bias effects us all
The Assertive Communicator
Genuine and active listening
Asking effective questions
Making a positive impact on others
How to plan your course
Identify three key areas which you want your workshop to focus on. These may include the topics above – or you may want to include other topics. Contact us by email or phone (details below) and we will work with you to design a workshop which will meet your team members' needs.
Using your ideas and examples drawn from the participants' experience, we will write and deliver a workshop to your precise requirements.
The Midas Approach
We tailor the content of every individual workshop to best fit the skill level and needs of the participants.
All of our workshops are highly interactive, and give the participants lots of opportunities to put theories into practice. Our highly experienced trainers will pass on the tips which will help your staff members succeed.