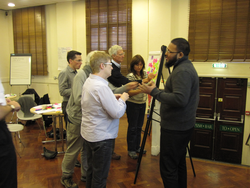 We have a seventeen years of experience helping both Members and Officers to develop their skills and facilitate projects. We understand the challenges of working in such a politically charged environment and within tight restrictions.
When we work for Local Government clients, we always adapt our material to suit that Council's situation. Sometimes that adaptation is minimal, sometimes it changes the training course completely.
As well as offering these tailored versions of all our normal suite of course topics, we also offer courses on a range of topics that are unique to Local Government.
All of these tried and tested courses have been developed with input from current and former Councillors and Council Officers.
Some of our unique training courses for Local Government clients:
Developing a successful working relationship between Members and Officers
– This course examines the inherent benefits and challenges in the Member/Officer relationship, explores how you can communicate clearly and confidently with each other, and build a successful partnership while you work together. This course can be tailored for delivery to either members or Officers
Giving presentations to the public – for Council Officers
Presenting to the public is often a daunting prospect for officers. This is particularly true if there is a highly controversial project under discussion. This course helps our participants to get their message across, respond to questions effectively and to look and feel confident.
Facilitating public meetings – for Council Officers
The art of facilitation is a crucial skill for some officers. Public meetings may be large or small but they always have the potential for the unexpected. This workshop helps people to understand how to set up a successful public meeting, involve the public appropriately and how to maintain a positive atmosphere. It explores ways to cope when things don't go to plan and how to stay calm under pressure. This course is run by Midas trainers with extensive personal experience of organising and facilitating public meetings.
Managing difficult conversations – for Council Officers
Officers face a range of situations which involve difficult conversations. This workshop focuses on a range of skills and techniques for managing theses tricky situations. As each workshop is written individually, it focusses on the immediate needs of the participants in this area.
Chairing Scrutiny Committees – for Elected Members
New Scrutiny Chairs often feel uncertain about their new role. This intensive training may be run on a one to one basis or to a very small group.
The course helps participants to understand the unique circumstances faced by a Scrutiny Chair. The trainer often shadows the Scrutiny Chair through a meeting so that they can help them develop a range of appropriate and effective behaviours to help them fulfil their new role successfully.
Presentation Masterclasses
These courses have proved very effective for elected members. They are run for individual Party Groups by a Midas Presentation trainer with a visiting 'expert'. The expert may be an MP from their own party, with a reputation for strong presentation skills or a specialist expert trainer.
This workshop can be run for up to 30 participants and we recommend running part of the course in the Council Chamber or a Committee Room.
Strategy Awaydays for Council Groups or Cabinet teams
These very popular workshops are aimed at helping Groups to work more effectively with each other, with officers and with the public. Every workshop is written especially for the individual Group to meet objectives which they define when the workshop is booked.
The content of the Awayday may include the following elements
Communicating clearly internally and externally
Understanding the role of the officers
Assertive communication
Group dynamics and team formation
Strategic planning
Co-operating across Party lines
Creating a positive working culture within the Group
Managing the volume of Council paperwork
Training different Party Groups
Please note that in some Councils it is acceptable to train members from across different Groups together – in others it is more usual to train them in separate political Party Group. Midas can work with either scenario.
We routinely place information 'firewalls' between trainers who may work with one party Group or another. So one Midas trainer might train a Conservative Group on a Strategy Awayday . A completely different Midas trainer would coach members from the Labour Group, and yet another train the Lib Dems. We find this approach reinforces trust and ensures confidentiality.
Most requested training topics
These are some of the training topics that we run most frequently for Local Government clients. All courses can be customised to be delivered to either elected members, officers or, in some cases a mixture of both but remember that ALL the Midas courses described on this website can be adapted by your experienced Midas consultant to be delivered for you:
Presentation Skills
Chairing Skills
Change Management
Conflict management
Effective Communication Skills
Customer Care for Council Officers
Leadership skills
Influencing Skills
Media Skills
Negotiation Skills
Rapid Reading skills
Stress Management
Time Management
We also facilitate both large and small meetings for our Local Government clients. Examples of these include Placeshaping workshops with Members, Officers and the public; and internal facilitation, like Objective setting events for particular departments or teams within the Council; chairing meetings between developers, members, officers and members of the public for Planning Departments.
Lastly, many Councils have found that our one-to-one coaching programmes are invaluable.
We offer coaching plans for Officers and for Members. When we coach Members, we normally endeavour to find a coach who has experience of working with their political party to help ensure the coaching relationship is successful. Your Midas consultant will discuss with you whether this is something that would be appropriate for your Council.
Coaching is also an excellent option for Officers who would benefit from a chance to reflect on their personal development in a private and supportive environment. It can be used for staff who are particularly talented and looking to advance, or for staff who are struggling to master a particular skill.
Whatever your training and development needs, Midas has the solution for you. Call us today to talk about how we can help your Council.