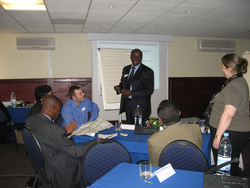 Whether you want to get coverage in your local paper or make a big splash on the national TV news headlines, our workshops can help you to get your message across. Our course materials have been developed by successful Journalists and Press Officers, packed with helpful hints and tips to make a positive impact.
We can tailor your course to either cover the basics for all media, or focus on getting positive coverage, dealing with negative news stories or any other scenario you would like to explore.
As part of your course, after exploring the basic principles and theories, we can record participants on camera giving practice interviews. Participants are then given supportive feedback to help improve their performance and practice framing their answers. This is a highly popular feature of our courses that many clients have told us has greatly improved their performance and confidence.
These are some of the topics we may include on a Media Skills course:
Making an impression on TV and radio
What makes news?
The basics of writing a press release
Constructing the perfect photo opportunity
Building a positive working relationship with journalists
Coping in a crisis
Defining your media message
Getting your message across
Handling high pressure interviews
Verbal skills for media appearances
Structuring a perfect answer
Top tips for TV and radio
How to plan your course
Identify three key areas which you want your workshop to focus on. These may include the topics above – or you may want to include other topics. Contact us by email or phone (details below) and we will work with you to design a workshop which will meet your team members' needs.
Using your ideas and examples drawn from the participants' experience, we will write and deliver a workshop to your precise requirements.
The Midas Approach
We tailor the content of every individual workshop to best fit the skill level and needs of the participants.
All of our workshops are highly interactive, and give the participants lots of opportunities to put theories into practice. Our highly experienced trainers will pass on the tips which will help your staff members succeed.