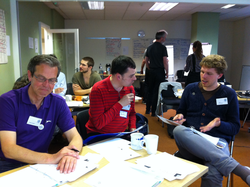 This is a topic that can be presented to Managers, Leaders or to whole teams at the same time, with a different emphasis. By exploring the fundamental building blocks of what can increase motivation, participants can examine their own practice and improve the way they encourage their team members.
This topic can be matched up with many others to form a short part of a longer course, or can be trained on its own as a standalone event.
If you were looking for a training event to provide motivation for your team, look at our Facilitation and Away-Days page. Arranging an Away-Day for your team is a great way to boost morale and motivate your team.
These are some topics that may be included in our Motivation skills courses:
Understanding what motivates people to excel
The motivational leader
The relationship between organisational culture and motivation
Factors which influence work culture
Overcoming motivational barriers
Three keys to an creating a positive work culture
Building and motivating a high performing team
Helping individuals to reach their goals
The role played by constructive feedback
Recognising the value of praise
How to plan your course
Identify three key areas which you want your workshop to focus on. These may include the topics above – or you may want to include other topics. Contact us by email or phone (details below) and we will work with you to design a workshop which will meet your team members' needs.
Using your ideas and examples drawn from the participants' experience, we will write and deliver a workshop to your precise requirements.
The Midas Approach
We tailor the content of every individual workshop to best fit the skill level and needs of the participants.
All of our workshops are highly interactive, and give the participants lots of opportunities to put theories into practice. Our highly experienced trainers will pass on the tips which will help your staff members succeed.