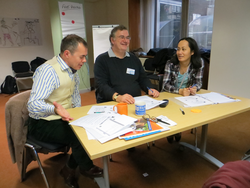 Negotiation is an important part of every person's life. Understanding which skills and strategies you can use will help you to get the best possible result in every situation.
Clients often ask us to include negotiation skills in longer Communication and Management courses. We can either spend a full or half day on this subject. These workshops include a complex negotiation exercise to help participants practice their skills in a safe environment. Alternatively this topic can be presented as a stand-alone day. This single day workshop is focuses on the different approaches which will help our participants achieve a success when negotiating.
These are some of the topics we may include on a Negotiation skills training course:
What is negotiation and how does it work
Formal vs informal negotiations
When is negotiation appropriate
Principles and practice of effective negotiation
The characteristics and behaviours of a successful negotiator
Communication skills for effective negotiators
Establishing an appropriate presence as a negotiator
The role of questioning and listening in negotiations
Why empathy is useful during negotiation
Understanding the constraints of negotiation
How to plan your course
Identify three key areas which you want your workshop to focus on. These may include the topics above – or you may want to include other topics. Contact us by email or phone (details below) and we will work with you to design a workshop which will meet your team members' needs.
Using your ideas and examples drawn from the participants' experience, we will write and deliver a workshop to your precise requirements.
The Midas Approach
We tailor the content of every individual workshop to best fit the skill level and needs of the participants.
All of our workshops are highly interactive, and give the participants lots of opportunities to put theories into practice. Our highly experienced trainers will pass on the tips which will help your staff members succeed.