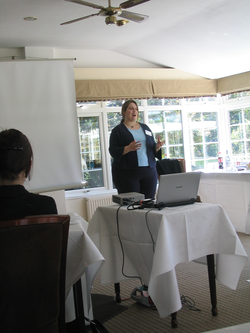 We run fun, interactive presentation skills workshops for people with different levels of experience and confidence when speaking in public.
Our trainers draw on their extensive knowledge and their own experience of presenting to help participants to give confident, professional, high impact presentations. By adapting each course to the skill level of the participants, the workshops help everyone to improve their presentation style and impact. We give extensive feedback to our course participants to identify positive areas of strength as well as what needs more development.
Here are a few of the topics we often include in our presentation skills courses:
Creating a persuasive and engaging message
Getting your message across
Managing your non-verbal impact
Enhancing your voice
Planning your presentation
Preparing your material
Meeting the needs of a diverse audience
Practicing your presentation skills
How to plan your course
Identify three key areas which you would like your workshop to focus on. These may include the topics above – or you may want to include other topics. Contact us by email or phone (details below) and we will work with you to design a workshop which will meet your team members' needs.
Using your ideas and examples drawn from the participants' experience, we will write and deliver a workshop to your precise requirements.
The Midas Approach
We write all our own training material, and we tailor the content of every individual workshop to best fit the skill level and needs of your participants.
All of our workshops are highly interactive, and give the participants lots of opportunities to put theories into practice. Our highly experienced trainers will pass on the tips which will help your staff members succeed.
We are based in Buckinghamshire, but we work right across the UK and have worked with clients in London, Newcastle, Inverness, Cornwall and Cardiff. We deliver in-house training, which means we come to your offices (or to any other venue you prefer) to run the training course for your team.
We train teams of all sizes, and can provide anything from coaching for one person, to a training course for 14 people, or a presentation to 200 staff members! Because we are experts in our field, we can adapt to fit your needs, whatever they are. We are always happy to provide references on request to help you feel sure our approach will work for you.
Give us a call, or drop us an email today to talk about your training needs, we will be happy to help!