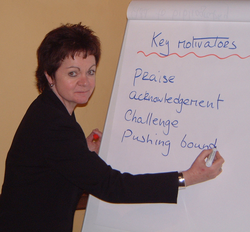 Stress is both a mental and physical reaction to our surroundings. It is a highly useful evolutionary trait that helps us prepare to fight or flee when danger arises. In the work environment, we need just a little bit of stress to keep boredom at bay and to help us keep performing at a high level.
However, the problem is that in our modern age, stressful situations may continue for days, weeks and months rather than a few hours. We may find ourselves stuck in a response pattern that is inappropriate, damages our work performance and causes problems for our health.
All Midas stress management workshops are highly practical. Our materials have been designed by trainers with backgrounds in psychology and business. All our trainers maintain an understanding of current thinking on this topical issue. Our workshops have been highly successful in helping teams that work in a wide variety of high-pressure environments to cope with stress effectively, before it becomes a problem.
Because there is such a wealth of information on this topic, we can offer you several different approaches and options for a training course. We will normally suggest that you include some elements from our Time Management workshops in your agenda for the training day, since this is a core technique in managing stress levels. There are also a number of other add-ons we can talk you through that are appropriate for teams and individuals in different situations and with different experiences of stress. Get in touch with us today and we can discuss which option may be best for your team members.
Here are some topics we may include in a Stress Management training course:
What creates pressure?
How to spot when pressure becomes stress
Recognising signs of stress in yourself and others
Creating your personal stress buster strategy
How to support a stressed team member
Handling stress-fuelled conflict situations
Confidence boosters
Practical ways to relax quickly
Dealing with paperwork
Controlling the impact of email overload
How effective time management can help reduce stress
Setting and agreeing objectives to help manage stress
Strategies for self-management
How to plan your course
Identify three key areas which you want your workshop to focus on. These may include the topics above – or you may want to include other topics. Contact us by email or phone (details below) and we will work with you to design a workshop which will meet your team members' needs.
Using your ideas and examples drawn from the participants' experience, we will write and deliver a workshop to your precise requirements.
The Midas Approach
We tailor the content of every individual workshop to best fit the skill level and needs of the participants.
All of our workshops are highly interactive, and give the participants lots of opportunities to put theories into practice. Our highly experienced trainers will pass on the tips which will help your staff members succeed.