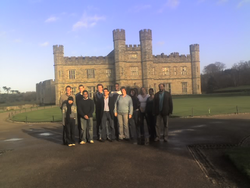 Whether your team is new or long established, team building training courses can help to improve performance.
At Midas, we believe that the most effective courses combine fun and interaction with a structured approach, giving time for discussion and reflection. All our team building courses will have an appropriate mix of elements for your group, which will help to develop shared aims, understanding and empathy.
If you would like to have part of the event be some kind of activity that is purely fun, we can work with you to schedule that into your event.
Although all Midas courses are bespoke, and tailored to your needs, team building courses are particularly diverse. Your Midas consultant will explain the many different options that are available to you so that we can put together a highly effective event that will set your team on the road to success.
Some topics we may include in a Team Building training course:
Developing an understanding of each other's roles within the team
Building a shared vision of where the team is going
Identifying team and organisational values
Mapping the strategic environment
Setting agreed operational priorities and roles
Building on team successes
Breaking down the barriers to success
Developing as a high performing team
Analysing how individual team members can become more empowered
Dealing effectively with change
Using personal and group action plans to help drive improvement
How to plan your course
Identify three key areas which you want your workshop to focus on. These may include the topics above – or you may want to include other topics. Contact us by email or phone (details below) and we will work with you to design a workshop which will meet your team members' needs.
Using your ideas and examples drawn from the participants' experience, we will write and deliver a workshop to your precise requirements.
The Midas Approach
We tailor the content of every individual workshop to best fit the skill level and needs of the participants.
All of our workshops are highly interactive, and give the participants lots of opportunities to put theories into practice. Our highly experienced trainers will pass on the tips which will help your staff members succeed.