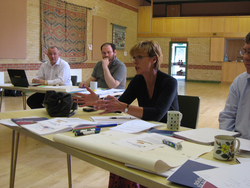 This is key area of expertise for Midas. We run inspiring, enjoyable and interactive courses where our attendees can learn how to design and deliver successful training workshops.
Some clients ask Midas to design a bespoke training workshop for them in a specific subject. We then train their existing trainers to deliver the new workshop.
Others use Midas to train new trainers and develop the skills of existing ones.
Our standard TfT workshop involves a minimum two day workshop. The participants design, write and then deliver a short training module at the end of the second day.
Attendees on our TfT courses act as "participant observers". This means we encourage them to learn the training theories being explored, at the same time as watching out for the tricks of the trade that are being demonstrated by the trainers.
A very popular TfT option is for the participants to be given one-to-one feedback with one of the course trainers. They are able to discuss their further development as a trainer in detail. The feedback session may be face to face, by telephone or by video call.
We can offer a certificate of accreditation from Midas for participants on the TfT workshops which are run over two or more days. We can also work with you to design an accreditation structure which is appropriate for your organisation.
Refresher TfT courses are also available, purely to improve the existing training skills of your team. We do still strongly recommend a two-day workshop as a minimum for this course, but we can negotiate other timescales with you if you wish.
All our Training for Trainers workshops combine theoretical elements with practical tips on how to design and deliver highly effective training courses.
These two and three day courses also offer the opportunity for participants to try out their new skills in the safe environment of the training room. The combination of feedback and experience they gain will leave participants confident, excited and ready to deliver high quality training.
Here are a few of the topics we often include in our Training for Trainers courses:
How adults learn
Examining your own learning styles
What makes a good trainer into a great trainer
The importance of the mind in performance
Barriers to effective training
Constructive feedback
Designing a well structured training course
The different stages creating and running a training course
Body language
Avoiding the common pitfalls for trainers
Neurolinguistic Programming (NLP) in communication styles and how that relates to training situations
How to use visual media effectively (PowerPoint, flipcharts etc)
The use and misuse of games and exercises in training courses
How to evaluate a training course
E-learning, webinars and the Virtual Learning Environment
Watch what some recent participants thought of this Midas Training course
Here are some short videos of interviews with participants from a Training for Trainers workshop we ran for Wikimedia UK in summer 2014 in London. Clicking on a video will take you to YouTube to watch them.
How to plan your course
This topic is slightly different to all our others, in that we do not ask you to choose just a few areas to focus upon. Instead, we have developed this course over a number of years to ensure that participants come away with a thorough understanding of how to design and deliver effective training courses. Rather than ask you what topics you would like us to cover, we will work with you to adapt our workshop to meet your team members' needs. We will use examples and situations that they will face in your organisation and tailor all the materials to your precise requirements.
The Midas Approach
We tailor the content of every individual workshop to best fit the skill level and needs of the participants.
All of our workshops are highly interactive, and give the participants lots of opportunities to put theories into practice. Our highly experienced trainers will pass on the tips which will help your staff members succeed.