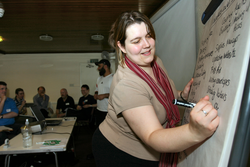 Midas assertiveness workshops cover a range of skill levels for various groups with different amounts of experience and confidence.
We offer workshops that range from an introduction to assertive behaviour to advanced assertiveness training for difficult situations.
This topic is often included as a major feature of a longer Communications Skills workshop, as well as being chosen as a stand-alone workshop theme.
Here are some of the topics which we often include in assertiveness workshops:
Understanding the basic behaviour styles: Aggressive, Passive, Assertive and Passive-Aggressive
The advantages and disadvantages of different behaviour styles
How we may use different styles of behaviour in different situations
Identifying your default styles of behaviour
How assertive are you?
Saying 'NO!' appropriately and effectively
Dealing with put downs
The impact of gender communication styles on assertive behaviour
Where aggression ends and assertiveness begins
Spotting and dealing with Passive Aggressive behaviour
Confidence and assertiveness
Assertive communication with your boss
Assertive communication with your staff
Assertive communication with a customer
Assertive thinking
Assertive verbal skills
Giving feedback in an assertive way
How to plan your course
Identify three key areas which you want your workshop to focus on. These may include the topics above – or you may want to include other topics. Contact us by email or phone (details below) and we will work with you to design a workshop which will meet your team members' needs.
Using your ideas and examples drawn from the participants' experience, we will write and deliver a workshop to your precise requirements.
The Midas Approach
We tailor the content of every individual workshop to best fit the skill level and needs of the participants.
All of our workshops are highly interactive, and give the participants lots of opportunities to put theories into practice. Our highly experienced trainers will pass on the tips which will help your staff members succeed.